Accommodation and Reservation
All your life you have been writing about Roman legions… But have you ever lived as a legionnaire? Have you ever experienced life on the limes at least a little bit like the one Romans lived? Live through what you write about… make your science alive and experience it…
Limes Park represents a new approach towards congress tourism and summer schools. It is created in the authentic environment of the Archaeological Park Vimimacium with a goal to accommodate and give a special experience of Roman legionnaires to tourists, experts and young people through many interesting progammes and activities. This Park is unique in its concept, combining already established principle of scientific, recreational and sports activities.
The Park is designed as a Roman legionary camp with military barracks, but with everything you might need for functioning in modern world.
INSTRUCTION  FOR  CUSTOMER  TRANSFERS  IN  EUR 
56: Intermediary:
BCITITMM
INTESA SANPAOLO SPA
MILANO, ITALY
57: Account with institution:
 DBDBRSBG
BANCA INTESA AD, BEOGRAD
MILENTIJA POPOVIĆA 7B
BEOGRAD, REPUBLIKA SRBIJA
59: Beneficiary:
/RS35160005390003665194
CENTAR ZA DUNAVSKI LIMES DOO BEOGRAD STARI GRAD
Knez Mihajlova 35 4
Beograd (Stari Grad)
Republic of Serbia
71A: DETAILS OF CHARGES:  OUR
---
---
PRICE
Price per person for the duration of Congress will be 300 EUR. Booking will be available soon through this web site.
This price includes:
bed and breakfast from 3rd September (check in) – 10th September (check out)
full meals for 4 work days at Viminacium (lunch and dinner).
Price does not include lunch or dinner for the days of the excursions (lunch is included in the congress fee for the excursions)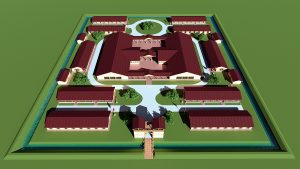 EXTERIOR OF THE COMPLEX
---
---
INTERIOR / ROOMS
ACCOMODATION
Accommodation is based on 6-bed rooms (3 bunk beds) with a bathroom, located in the replicas of Roman military barracks, made according to those which existed in Viminacium in the golden age of Legio VII Claudia Pia Fidelis. Capacity 450 beds.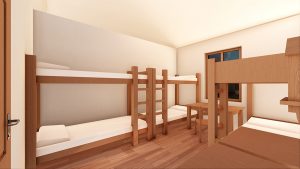 ---
* * *