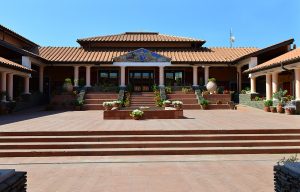 Viminacium, Research Center
Congress will be opened in Belgrade September 2 2017, with special attention to the Exhibition "Roman Limes and Cities in Serbia" at the Gallery of the Serbian Academy of Science and Arts.
All participants will be transferred in the morning September 3 to the Archeological Park Viminacium where the rest of the program will be held. Transfer will be arranged for all participants from the organizers.
Participants should arrange their own accommodation while they are in Belgrade. At the Viminacium there are two possible options: accommodation at the Limes Park part of the Archaeological Park Viminacium or at the private hotels and guest houses at the nearby Silver Lake and Požarevac. Shuttle service will be provided for those participants accommodated at the Silver lake and Požarevac for the duration of the Congress.
Contact Information
E-mail: limescongress.serbia@gmail.com
http://limes2018.org/
Institute of Archaeology,
Serbian Academy of Science and Arts
Knez Mihailova 35/IV
11.000 Belgrade, Serbia
Scientific committee
Miomir Korać, Institute of Archaeology (director)
Snežana Golubović, Institute of Archaeology
Miroslav Vujović, Faculty of Philosophy, Department of Archaeology
Stefan Pop-Lazić, Institute of Archaeology
Gordana Jeremić, Institute of Archaeology
Nemanja Mrđić, Institute of Archaeology
International Advisory Committee
David Breeze, Durham University, Historic Scotland
Rebecca Jones, Historic Environment Scotland
Andreas Thiel, Regierungspräsidium Stuttgart, Landesamt für Denkmalpflege, Esslingen
Nigel Mills, Heritage Consultant, Interpretation, Strategic Planning, Sustainable Development
Sebastian Sommer, Bayerisches Landesamt für Denkmalpflege
Lydmil Vagalinski, National Archaeological Institute with Museum – Bulgarian Academy of Sciences
Mirjana Sanader, Odsjek za arheologiju Filozofskog fakulteta Sveučilišta u Zagrebu
Organization committee
Miomir Korać, Institute of Archaeology (director)
Snežana Golubović, Institute of Archaeology
Miroslav Vujović, Faculty of Philosophy, Department of Archaeology
Stefan Pop-Lazić, Institute of Archaeology
Gordana Jeremić, Institute of Archaeology
Nemanja Mrđić, Institute of Archaeology
Ivana Kosanović, Institute of Archaeology
Milica Marjanović, Institute of Archaeology
Ministry of Education, Science and Technological Development
Mladen Šarčević, Minister
Assistant minister
Ministry of Culture and Information
Vladan Vukosavljević, Minister
Assistant minister
SANU / SASA
Vladimir Kostić, President
EPS
Slobodan Mitrović, Executive director
City of Požarevac
Bane Spasović, Mayor
City of Belgrade
Mayor
City of Sremska Mitrovica
Vladimir Sanader, Mayor
City of Novi Sad
Miloš Vučević, Mayor
City of Kladovo
Radisav Čučulanović, Mayor
---
Organizer: Institute of Archaeology
Serbian Academy of Science and Arts
Knez Mihailova 35/IV
11.000 Belgrade, Serbia
http://www.ai.ac.rs
institut@ai.ac.rs